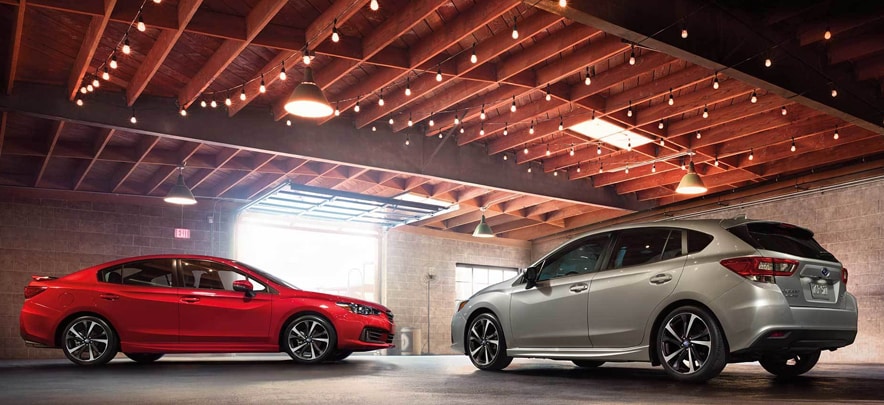 Subaru Impreza Wilkes-Barre, Plains, Scranton and surrounding areas: Get Ready To Change The Way You Drive Forever
Meet the Subaru Impreza, our compact yet powerful conveyance. With new, ergonomically tailored seats, a user-friendly infotainment system, and an ambitious 2.0-liter DOHC Engine, driving excitement has never been easier. 
While it may be small, this power-packed compact sedan opens up a whole new world of opportunity for Wyoming Valley Subaru drivers. As we already know, nothing performs quite like the Subaru Impreza. This compact car shines with Subaru's Symmetrical All-Wheel Drive System. Think of this as the perfect get-away car- it's sleek, sporty, smart, and swift.
In addition to the sedan, the Subaru Impreza also comes available as a hatchback. And the best part is you don't have to compromise anything to enjoy the new five-door Subaru hatchback. The new Impreza Hatchback is a comfortable, spacious vehicle with plenty of room for you and your family. Who knew that you could get so much for so little? Now, you know. 
Shop Subaru Impreza deals at Subaru of Wyoming Valley, located at 1470 Hwy 315, Suite 2 Plains, PA 18702. Visit us today and ask about our new Subaru Impreza lease deals, specials, and offers. While you're at it, take the new Subaru Impreza for a free test drive. Let us show you why so many people are talking about the new Subaru Impreza in Scranton, Wilkes-Barre, and Plains, PA. 
To get a better value on a new Subaru Impreza for sale in Wyoming Valley, fill out the form on this page.